Kaspersky Total Security 2023 1 PC 1 Year Key
System Requirements

Compatible with Windows 7/8/10/11.

| | |
| --- | --- |
| Memory: | 1 GB of RAM |
| Storage: | 2 GB of available disk space |
| Internet Connection |  Requires an internet connection. |
Key Activation

You will receive an easy-to-follow guide on how to activate your product once you complete your purchase.
Protect your PC with
total confidence
Shield your computer from digital threats and enjoy a worry-free online experience with Kaspersky Total Security 2023. This 1-year license for 1 PC offers comprehensive protection against viruses, malware, ransomware, and other cyber threats. With advanced security features and regular updates, Kaspersky Total Security 2023 ensures your digital life remains safe and secure.
Explore its key features
Real-Time Protection
Stay one step ahead of malicious attacks with Kaspersky's real-time protection. It continuously monitors your PC, detects and blocks viruses, ransomware, and other threats, providing a robust defense against online dangers.
Safe Money
Protect your financial transactions and online banking activities with Kaspersky's Safe Money feature. It creates a secure environment for conducting online payments, ensuring your sensitive information remains encrypted and inaccessible to cybercriminals.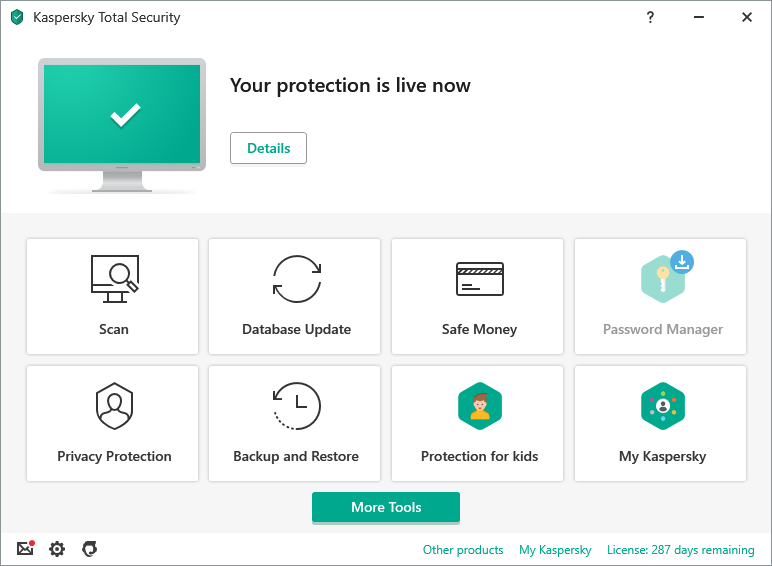 Privacy Protection
Keep your personal information safe from prying eyes. Kaspersky Total Security 2023 safeguards your privacy by preventing unauthorized access to your webcam, blocking phishing attempts, and securely deleting sensitive files to maintain your digital privacy.
Password Manager
Forget the hassle of remembering multiple passwords. Kaspersky Total Security 2023 includes a password manager that securely stores your login credentials, generates strong passwords, and automatically fills them in for you, streamlining your online activities while enhancing security.
Frequently asked

Have a look at the frequently asked questions for Kaspersky You might find here the answers you need.
Can Kaspersky Total Security protect my computer from all types of malware?

Yes, Kaspersky Total Security provides comprehensive protection against various types of malware, including viruses, ransomware, spyware, Trojans, and more. Its advanced detection and prevention technologies, along with real-time scanning, ensure your computer remains secure against the latest threats.
Can I use Kaspersky Total Security on multiple devices with a single license?

No, the license for Kaspersky Total Security is typically specific to the number of devices it can be installed on. If you have a license for 1 PC, it can only be used on a single computer. However, Kaspersky offers multi-device licenses that allow installation on multiple devices, such as PCs, Macs, smartphones, and tablets. Be sure to choose the appropriate license type based on your needs.
Will Kaspersky Total Security slow down my computer's performance?

Kaspersky Total Security is designed to provide robust protection without significantly impacting your computer's performance. It utilizes efficient scanning algorithms and minimizes system resource usage to ensure smooth operation. Additionally, the software has been optimized to run in the background and carry out security tasks seamlessly, allowing you to enjoy optimal performance while staying protected.